At K9 Solutions, we help put you in control of your pet through the "praise" method of training. No food or fear is used in any of our training, and we treat your dog as one of our own! A "trained" dog is a dog that responds appropriately to communication from his or her owner. Communicating with your dog can be done with voice commands, hand signals, and leash. At the K9 Academy, we utilize all three methods and offer a well-rounded, complete training program that focuses on: commands, attention span, focus, manners, companionship, and socialization. And, then, we teach you how to continue reinforcing your dog's training at home.
"Doggie Bootcamp" Board/Train Program
Our training program helps put you in control of your dog. We combine basic and advanced skills using verbal, hand, and leash communication methods:
1) Heel – Your dog will walk with you on your left side at all times, which makes a walk more enjoyable for both of you.
2) Sit – By having your dog sit on command, you are able to control your dog's behavior in all situations.
3) Stay – Your dog will learn to stay in three positions: Sit, Down and Stand. This skill is especially beneficial for overall restraint of your pet.
4) Down – A simple hand command is all it takes to direct your dog to lie down.
5) Come – The easiest, most important command in maintaining discipline.
6) Problem Resolution – Behavior, aggression, anti-social, obedience, bad manners, etc.
7) Manners – This part of training addresses unwanted behaviors from housebreaking a puppy to aggression. Unwanted behavior may include chewing, digging, excessive barking, jumping, pulling, pawing, knocking children over, etc.
8) Attention Span – Beyond the initial training, you dog has to have an attention span. For example, a dog who will "sit and stay" for 15 or 20 minutes is a dog whose owner is in control. Attention span slows your dog down, takes him out of 5th gear and puts him into 1st.
9) Focus – is critical. When distractions are around (other animals, people, cars, loud noises), that's when you especially need control over your dog. We work extensively with attention span and focus, which sets us apart from many other trainers.
10) Socialization – involves teaching and enforcing good manners and behavior even when your dog is in a crowd (other animals, people, dogs, etc.).
11) Companionship Enhancement – We want your dog to be more than a pet. We want him or her to be an enjoyable companion and well-behaved member of your family.
All problem resolution begins with a personal, hands-on, one-to-one examination by owner Auburn Leach, a USDTA Registered Trainer with over 20 years of experience. After he has assessed your dog's needs, Auburn will recommend the right training program for your best friend and you.
Once your dog's training is complete, you will be taught how to handle him or her correctly, reinforcing the training methods. After you have learned to work your dog properly, simple verbal commands given in the proper tone will be all that is necessary.
Problem Solving is My Specialty
I provide professional training solutions for the following undesirable dog behaviors:
1) Aggressive dogs
2) Anxious dogs
3) Stubborn dogs
4) Nervous dogs
5) Shy dogs
6) Timid dogs
7) Submissive urination
8) Excited urination
9) Dog chewing
10) Separation anxiety
11) Neurotic dogs
12) Frightened dogs
13) Training for jumping dogs
14) Training for housebreaking
15) Training for potty training
16) Training for rescue dogs
K9 Training Facility
1) Convenient to Interstates 81 and 64 in Augusta
2) Indoor & Outdoor Training Facilities
3) Offers Obedience, Therapy and Security & Protection programs
4) Open Year-Round, All Weather
5) Licensed Evaluator of The Foundation for Service Dog Support, Inc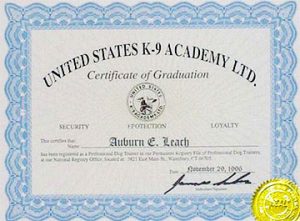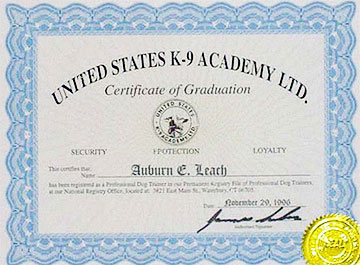 Specialty training for people with special needs:
1) Therapy dogs
2) Service dogs
3) Assistance dogs