Don't be a victim! Man's best friend is also your best and most affordable protection, on top of giving you loyalty and undying love 24 hours a day, 7 days a week. At K9 Solutions, our Protection Training Program turns your dog into a valuable security force for your home, office, and family. It builds confidence in your dog and creates a greater sense of loyalty and love for you and your family.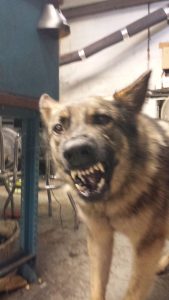 Property security training for your dog:
1) Enhances security of your home or business.
2) Instills confidence in you, your family and your pet.
3) Builds greater loyalty, trust and love between you and your best friend.
With our customized, individual training program, you and your dog train together on a personalized schedule – on campus or at your own home. After assessing you and your dog's needs, we will present a plan that not only includes basic training, but specialized, as well.
Protection
At K9 Solutions, we train dogs to be sentry or patrol dogs, as well as personal guard dogs. I also teach dogs to attack on command or direct threat, including release on command. Simple, voice, hand and leash commands are all that is needed to keep you and your family safe with confidence.
Why Own a Guard Dog? Virginia Crime Statistics
These statistics are for crimes that occurred in 2013. A loyal guard dog can save you from becoming a victim.
1) Violent crimes – 15,524
2) Property – 170,654
3) Murder – 316
4) Rape – 1,581
5) Robbery – 4,565
6) Aggravated Assault – 9,062
7) Burglary – 26,640
8) Larceny Theft – 135,478
9) Vehicle theft – 8,536
Our Promise to You and Your Pet
Your pet will be treated as one of our own. All dogs are trained with the "praise" method. No food or fear is incorporated into our training.
K9 Training Facility
1) Convenient to Interstates 81 and 64 in Augusta
2) Indoor & Outdoor Training Facilities
3) Offers Obedience, Therapy and Security & Protection programs
4) Open Year-Round, All Weather
5) Licensed Evaluator of The Foundation for Service Dog Support, Inc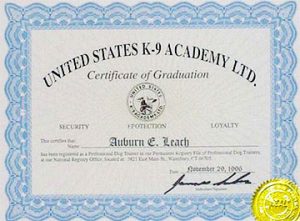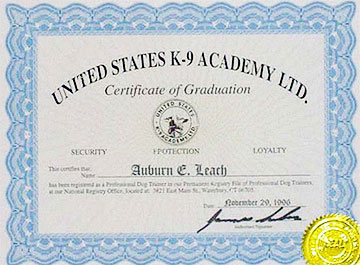 Our Guarantee
Training by Auburn Leach K9 Solutions carries a satisfaction guarantee – that you will see immediate results in your dog after his stay with us. And, if you continue working with your dog after his formal training, your dog will continue to obey and follow your lead. If your dog shows problems after training, we offer follow-up visits reconditioning, and continued problem resolution.