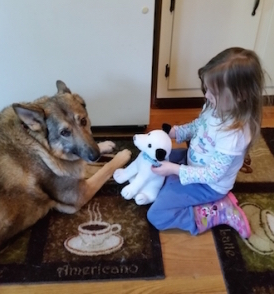 People's behavior is just as important as dog behavior! The true art of our training program is making sure the whole family can handle your dog – even the children. At Auburn Leach K9 Solutions, we work extensively with pets and their owners.
Animals need a leader – someone to set boundaries, give guidance, and from whom to receive praise. Canines see themselves as members of a "pack" and especially need someone to look up to and please. A dog that is unsure of his place in the pack is a confused and frustrated pooch, which can cause a myriad of behavioral problems.
During your dog's training process, we will also work with you and your family on:
1) Tone of voice.
2) Handling skills.
3) Authority and establishing yourself as the "pack leader" or "alpha dog".
4) Follow-up training to ensure what your dog has learned is reinforced at home.
For graduates of our program, we offer weekly "Social Hours in the Park" to provide socialization skills reinforcement.
Our Promise to You and Your Pet
1) Your pet will be treated as one of our own.
2) All dogs are trained with the "praise" method. No food or fear is incorporated into our training.
3) Immediate results guaranteed!
K9 Training Facility
1) Convenient to Interstates 81 and 64 in Augusta
2) Indoor & Outdoor Training Facilities
3) Offers Obedience, Therapy and Security & Protection programs
4) Open Year-Round, All Weather
5) Licensed Evaluator of The Foundation for Service Dog Support, Inc